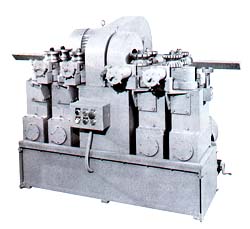 Models 5000 & 6000
Machine shown without guard for illustration only. Guard must be in place before operating.
The Models 5000 and 6000 Hawker Dowel Machines are the most rugged ever built for the blanking or turning of large diameter finished dowels of the roughest material.
Two (5000 Model) or three (6000 Model) pairs of powered infeed rolls with independent adjustable tension permit variations of up to 1-1/2" over the finished dowel being produced.
The all-steel precision cutter head is ground and balanced. All four cutter knives adjust simultaneously for fast, exact size control, infinitely variable over a capacity of 2-1/2" to 5" on the 5000 machine and a capacity of 4" to 6" on the 6000 machine.
Timken tapered bearings are used throughout the machine with the exception of the cutter head which utilizes ball bearings lubricated by an oil bath. The shafts are heavy duty alloy steel, pre-hardened and ground. The well-lubricated, steel miter gears operate in an oil bath.
Two (5000 Model) or three (6000 Model) pairs of powered outfeed rolls pull the ends out of the head, eliminating spin and assuring positive feed.
Feeding and cutter head speeds are adjustable to meet your material requirements.
Specifications
5000

| | |
| --- | --- |
| Stock diameter | 2-1/2" to 5" |
| Stock length | 20" and up |
| Feed rate | 40 to 150 feet per min. |
| Feed motor | 7-1/2 hp |
| Cutter head | 40 hp |
6000

| | |
| --- | --- |
| Stock diameter | 4" to 6" |
| Stock length | 22" and up |
| Feed rate | 30 to 150 feet per min. |
| Feed motor | 7-1/2 hp |
| Cutter head | 50 hp |