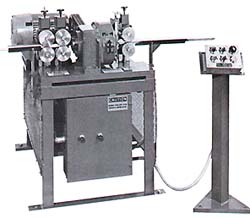 Model 500 Dowel Machine
Machine shown without guard for illustration only. Guard must be in place before operating.

The Model 500 Hawker Dowel Machine is capable of turning high quality wood dowels from dimensioned squares or rough round stock.
The exclusive "Hawker" all-steel cutter head is infinitely adjustable from 5/16" to 1-1/2". All four cutter knives adjust simultaneously for fast, exact size control and are powered by a 10 HP motor.
This machine is designed with one pair of powered infeed rolls which feed the material into the "Hawker", self-centering and equalizing infeed stock guide. The guide assures positive centering of off-sized stock and eliminates chatter and vibration which may cause product damage at production speeds.
There are two pairs of powered outfeed rolls on the "Hawker 500". They are manufactured to the exact size of the finished dowels which assures positive feed.
These infeed and outfeed rolls are powered by a 2 HP motor which has a wide range of speeds through a variable speed drive.
The precision steel sleeve, which mounts inside the head, guides the turned dowel until it is picked up by the outfeed rolls. They are available with 1/32" ID clearance over the turned dowel.
The "Hawker 500" is designed with many safety devices which will help protect the operator from the moving parts. The cutter head is completely enclosed with a heavy ductile iron shaving hood. All belts are covered by guards, and the electrical pedestal gives safe and easy access to the electrical controls.
Specifications

| | |
| --- | --- |
| Stock diameter | 5/16" to 1-1/2 |
| Stock length | 17" and up |
| Feed rate | to customer's specifications |
| Feed motor | 2 HP |
| Cutter motor | 10 HP |
| Size | 48" W x 44" L x 46" H |
| Size (with hopper) | 48"W x 86" L x 46" H |
| Weight | 2100 lbs. |

Home | Machines | Rebuild | Accessories |
Other Products | Contact Us