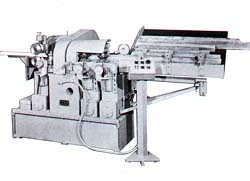 Models 3000 & 4000 Dowel Machines
Machine shown without guard for illustration only. Guard must be in place before operating.

The models 3000 and 4000 Hawker Dowel Machines are heavy duty, high production machines for blanking or turning finished dowels from square rectangular or rough round stock.
Two pairs of powered infeed rolls with independent adjustable tension permit the feeding of a wide variation in stock. V-roll guides center and holds the stock to prevent vibration as it enters the cutter head.
One pair of powered outfeed rolls and a vertically mounted secondary pair of outfeed rolls eliminate spinning and assure positive feed in both forward and reverse direction for clearing the cutter head.
The cutter head is an all-steel, precision ground and balanced unit with a capacity of 1-1/4" to 3-1/4" on the Model 3000 and 1-3/4" to 4" on the 4000 Model. The cutter heads are infinitely adjustable throughout their respective ranges. Critical castings are ductile iron and critical shafts are prehardened and ground. The miter gears are enclosed and run in an oil bath.
Specifications
3000

| | |
| --- | --- |
| Stock diameter | 1-1/4" to 3-1/4" |
| Stock length | 20" |
| Feed rate | 40 to 150 feet per min. |
| Feed motor | 5 HP |
| Cutter head | 25 HP |
| Size | 50" W x 54" L x 51" H |
| Size (with hopper) | 50" W x 100" L x 51" H |
| Weight | 3200 lbs. |
4000

| | |
| --- | --- |
| Stock diameter | 1-3/4" to 4" |
| Stock length | 20" |
| Feed rate | 25 to 150 feet per min. |
| Feed motor | 5 HP |
| Cutter head | 30 HP |
| Size | 50" W x 100" L x 51" H |
| Size (with hopper) | 50" W x 100" L x 51" H |
| Weight | 3400 lbs. |

Home | Machines | Rebuild | Accessories |
Other Products | Contact Us