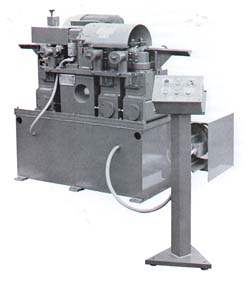 Model 2000 Dowel Machine
Machine shown without guard for illustration only. Guard must be in place before operating.

The Model 2000 Hawker Dowel Machine turns rough squares into rough rounds or finished dowels, providing high production, size control and extra smooth turning with only minimum operator attention.
Two pairs of powered infeed rolls with independent adjustable tension permit a wide variation in stock sizes to be fed.
The all-steel cutter head is infinitely adjustable from 1/2" to 2". All four cutter knives adjust simultaneously for fast, exact size control.
Precision steel sleeves guide the turned dowel through the cutter head until it is picked up by the outfeed rolls. The sleeves are available in 1/32" ID clearance over the turned dowel.
One pair of powered outfeed rolls and a vertically mounted secondary pair of outfeed rolls double the machine's holding power. This roll arrangement prevents spinning and twisting while permitting faster feed and heavier cuts.
All critical castings are ductile iron and all critical shafts are prehardened and ground. The precision bearings used throughout are lubricated through regular grease fittings or they run in an oil bath.
Specifications

| | |
| --- | --- |
| Stock diameter | 1/2" to 2" |
| Stock length | 16" and up |
| Feed rate | 75 to 250 feet min. |
| Feed motor | 5 HP, variable speed |
| Cutter motor | 15 HP, 3600 to 5000 rpm |
| Size | 42" W x 48" L x 46" H |
| Size (with hopper) | 42" W x 88" L x 46" H |
| Weight | 3000 lbs. |

Home | Machines | Rebuild | Accessories |
Other Products | Contact Us