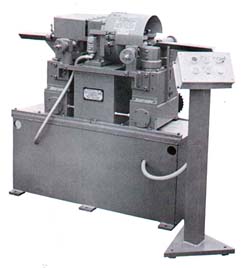 Model 1500 Dowel Machine
Machine shown without guard for illustration only. Guard must be in place before operating.

The Model 1500 Hawker Rod & Dowel Machine turns dowels of high quality and close tolerance from rough squares or extruded material with minimum operator attention.
The modular feed construction, along with the wide base, provides room for additional holding units to insure positive, accurate feeding and centering when needed.
One pair of powered outfeed rolls with independent adjustable tension permits the feeding of a wide variation in stock sizes.
One pair of powered outfeed rolls in the exact size of the finished dowel assures positive feed in both forward and reverse direction for clearing the cutter head.
Precision steel sleeves, which guide the turned dowel until it is picked up by the outfeed rolls, are available in ID clearances over the turned dowel. All critical castings are ductile iron and all critical shafts are hardened and ground.
The exclusive all-steel cutter head is infinitely adjustable from 5/16" to 2". All four cutter knives adjust simultaneously for fast, exact size control, and are powered by a 10 HP motor at 3800 rpm.
The cutter knife holding lugs, mounted on the cutter head face plate, are equipped with an eccentric bushing which allows, simple, positive alignment in the field. The cutter head motor can be equipped with an adjustable sheave to turn a variety of special applications in both wood and plastic.
When producing turnings of 1/2" or under, the self-centering and equalizing infeed stock guide is necessary to hold the rough stock and eliminate material damage caused by chatter and vibration. Turnings of 1-1/2" and larger require the vertically mounted, secondary outfeed stock rolls to prevent the distortion and breakage caused by dowels spinning in the cutter head.
Specifications

| | |
| --- | --- |
| Stock diameter | 5/16" to 2" |
| Stock length | 17" and up |
| Feed rate | to customer's specifications |
| Feed motor | 2 HP |
| Cutter motor | 10 HP |
| Size | 28" W x 56" L x 46" H |
| Size (with hopper) | 28"W x 80" L x 46" H |
| Weight | 2500 lbs. |
Home | Machines | Rebuild | Accessories |
Other Products | Contact Us