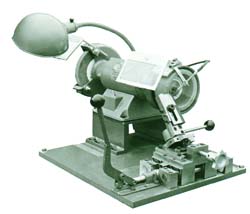 Model GR-400 Double-End Knife Grinder
The Model GR-400 Grinder sharpens knife sets for all Hawker Dowel Machines. It is easy to use, requires no special training and can be permanently set to exactly duplicate original cutting angles. The grinder has adjustable stops plus adjustments for producing cutting angles of 30 degrees, 37-1/2 degrees and 45 degrees.
The unit slides on high quality Thomson Bushings. The 160 lb. grinder is bench-mounted and powered by a 3450 rpm, 1/2 hp motor. A mist cooling unit is included. Adapters are available for other makes of knives.
Home | Machines | Rebuild | Accessories |
Other Products | Contact Us