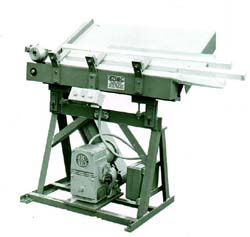 Automatic Hopper Feeder
The Hawker Automatic Hopper Feeder permits the dowel machine to operate at maximum capacity and to feed the material end-to-end. This reduces machine maintenance and can increase production as much as 30 percent over manual feeding. The operator needs only to keep the table loaded.
The prealigned AH70-type hopper bolts directly to the Hawker Dowel Machine and is fed by the machine's drive system. They are available inclined, with a 45 degree break, or with horizontal loading plates for use with a conveyor system. Hoppers are available in 4', 6', and 8' lengths and standard models can handle up to a 3" x 3" square.
The AH80 model is a self-sustained hopper with all of the above features. It is powered by a 3/4 hp variable speed drive motor and can be used with almost any type of machine.
Home | Machines | Rebuild | Accessories |
Other Products | Contact Us